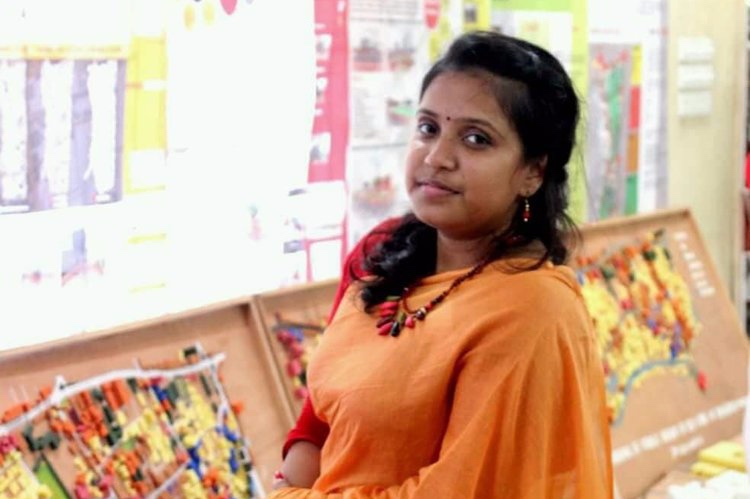 with Workshop Host Dipa Saha
Workshop photos by Kazi Asadullah Al Emran
It was a very significant day for me, since I was going to organize our first Observe workshop in Bangladesh. From HSTU campus we took an easy bike (three-wheeler, locally called 'auto') and started our journey to Dinajpur School of Liberators. We reached half an hour before the scheduled time and saw some of our participants were playing in their playground. We met their teacher Johora Tabassum and she said all students and teachers are very interested in the workshop. She also warned me about today's smart participants and later I found it true. We discussed and finalized the day's schedule. When all our participants were present, we went to our arranged venue. The Principal of the school inaugurated the workshop with a short speech. He then introduced me and my team member Imran and Disha.
I began by giving a brief description about the Center for Living City and the Observe workshop. Then all 25-students introduced themselves, where they live in Dinajpur, and their everyday route from home to school. After the introductory session we started our first exercise - The Jani(e) story telling cards.
For this exercise, twelve volunteers loudly read the Jani(e) story telling cards, which was beautifully translated into Bangla by Monika Roy. I was very much afraid about finding the first volunteer as I thought maybe they were shy. But a student from 7th standard agreed to be the first one and started the story of Jani, a young girl living in Dhaka city. From the other eleven cards, we learned how Jani saved the pond in their community and her journey from a young voice to a renowned journalist. Each card had a question, so they listened to the story carefully and started giving answers. While giving their responses, they start discussing with their friends bringing up issues like the needs of playgrounds and parks, the protection of Girija Nath canal, the necessity of footpaths, the necessity of street lights and even the illegal parking of bus and heavy vehicles came into the discussion.
I was very surprised because they identified almost all of the environmental and urban issues of Dinajpur city that we should be concerned about.
After finishing reading the twelve cards I saw they already guessed there was something behind the story-telling card and they started matching them with each other. This activity leads us to our second exercise- assembling the Jane Jigsaw.
Jane Jigsaw
I told the students to come forward and assemble all twelve cards together. They ran into an open area and assembled the JIGSAW puzzle, which revealed an image of Jane Jacobs.
They were very excited and wanted to know more about Jane Jacobs. Then I revealed the story of Jane Jacobs, a renowned journalist and urbanist who fought for the notion that cities are for its people. They were moved by her story and promise to work for the well-being of their city and citizens.
observe with your five senses
After a short break for snacks, Disha provided the five senses notepad, pen and Observe badge to everyone. Our next activity was to explore a neighborhood and test the observational skills students learned from the workshop so far. The notepad had some led the students through a series of prompts: sight, hearing, smell, touch and taste. We discussed how we could use our five senses to observe our surroundings and the importance of it.
We mapped an 'O' loop around the school containing a commercial area as well a residential neighborhood. All of the participants put on the observe badge, took their notepad, pen, water bottle and prepared themselves for the exploration. Around 11:30 am, we started our walk from the school gate and walked through the commercial area.
At next node, there was an illegal bus stop and truck stand, which the students started complaining about it. From this node, we changed our route and decided to walk towards 'Kanchan' river. After walking for 5 min, we reached Kanchan Bridge and were shocked to see the dying river. Our participants became anxious and started asking how we can save this river.
Deflated and overwhelmed from the issues around the river, we continued our journey to the residential area. At mid-day, this area was more quiet, with some community members gathered around the corner shops.
We continued our exploration and walked along the Girija Nath canal, a canal founded to serve as a primary drainages system for the city. Our participants noticed that, due to the lack of proper dustbins, people were throwing their waste here and where especially on canal side. They also indicated that lack of maintenance, illegal encroachment, the open drain and open sewerage system were the main culprit for the poor condition of the canal.
On the way back to school, we talked about ideas to program and develop the canal-scape and create a recreational area for the neighborhood.
mental mapping.
For the post lunch session, the participants drew a map of the area we walked earlier and marked the features/areas/ideas they observed. We encouraged them to give details, highlighting things that stuck out to them.
After collecting everyone's maps, the group noticed different highlighted areas and ideas.
stakeholder role-play game
Participants shared their thoughts and responses to various issues and ideas they observed and talked about throughout the day. Many great ideas emerged from the group and several decided to share their ideas with friends, family, and neighbors.